Over the years, the sport of oval racing has seen a lot of changes, to put things into a better perspective, it's these necessary updates that have caused to sport to evolve into the powerhouse it is today. And in wake of the recent Martinsville race, Denny Hamlin has come out expressing his thoughts while extending a plea for the organization.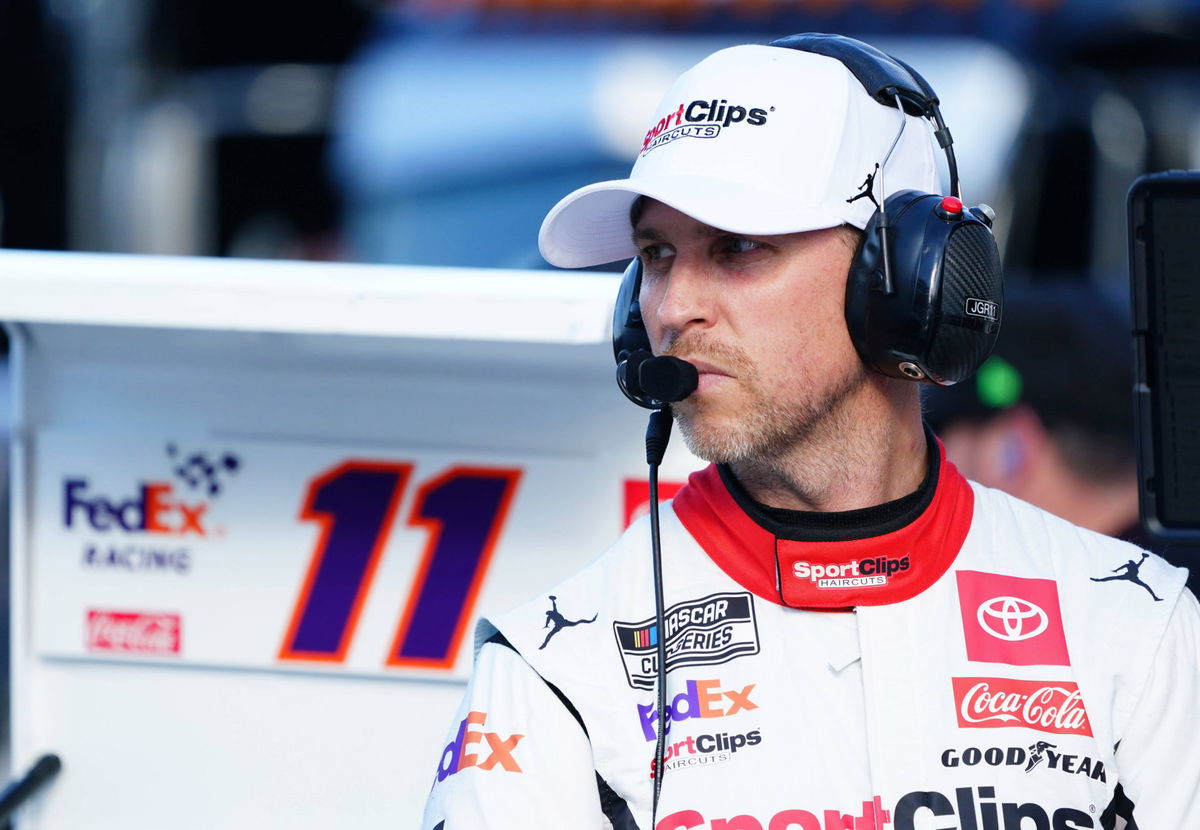 Hamlin voiced his mind about the necessity of having more power in such scenarios, he also explained how difficult it is to make a pass in such short and fast-paced tracks.
While the Joe Gibbs Racing driver expressed his thoughts, another NASCAR Cup Series veteran and analyst came out slamming Hamlin and reiterated the nuances of Martinsville Speedway.
NASCAR Cup Series veteran and 3-time Daytona winner slam Hamlin while elaborating on the nuances of the track
Popular NASCAR analyst for NBC and the three-time Daytona winner, Dale Jarrett has come out to slam the #11 driver despite his plea of increasing the overall power in cars in order to make passing much easier. Reacting to the recent race in Martinsville, a frustrated Hamlin voiced his thought on his popular podcast.
Unlike other speedways, Martinsville has its own uniqueness, as the veteran 1999 Winston Cup Series driver explained. Denny Hamlin revealed how difficult it is to make a pass with every other driver going at the exact speed, and he was frustrated by the unforgiving nature of the track. Hamlin expressed his thoughts bluntly, even urging NASCAR, saying, "You got to give us some horsepower back."
Reacting to such claims, Jarrett had sharp words for Hamlin, when the co-host of the show NASCAR on NBC, Nate Ryan asked, "What is it about this track that has that light bulb switch moment?"
To which the veteran said, "Yeah, I think that your tendency because you can easily overdrive is to do that and so once  you figure something out, you  could go there on the test session and you can figure out something that may make you go faster and your lap time shows something but then you figure out then you go and get in competition and you realize that, oh, okay well that made me go faster there, but I can't pass anybody so you might make make speed in a certain way but figuring out how to translate that speed to adaptability when you get in competition and make passes is something totally different and that's what the good drivers there have figured out," 
READ MORE: "Guys in the Same Equipment as Me Are Outperforming Me" – Denny Hamlin Vents Frustrations While Thinking of the Time When Kyle Busch Was His Teammate
Further, he added, "That they did things that not only created speed but understanding that whenever you are in Martinsville to make a pass is not just about having the most horsepower or turning the most rpm on the exit of the corner, it is about having your car to do what it needs to do in the center of the corner and how you get to that point that's gonna not only to create speed but also passing opportunities." 
So, how was the race at Martinsville? How did Denny Hamlin fare at the track?
The #11 Joe Gibbs Racing Camry wasn't having the best time on the track, even though Hamlin is a short-track lover, the distinctive track proved troublesome as the driver struggled to pass drivers ahead of him. While he managed to win stage 2 of the race, it was more than what he anticipated as the driver found himself struggling to catch his JGR teammate Martin Truex Jr who managed to get the 3rd position closely followed by Hamlin in the 4th spot.
Despite two Joe Gibbs drivers in the top spots, Hendrick Motorsports had the final laugh with their driver Kyle Larson coming home with the victory while fending off an aggressive Joey Logano.
WATCH THIS STORY: Denny Hamlin believes Fox is to blame for NASCAR's slump following Kevin Harvick's "Chase Elliott Effect" argument. 
The post 1999 Cup Series Champ Shuts Down Denny Hamlin's Desperate Plea to NASCAR Following Martinsville Frustrations appeared first on EssentiallySports.